William Austin Starmer
(January 28, 1872 to September, 1955)

Frederick Waite Starmer
(September 2, 1878 to March 19, 1962)

Virtually anybody who has even a minimal sheet music collection that includes ragtime-era items likely has a cover done by one of the prolific Starmer Brothers. They had a consistency that was hard to match in terms of creating eye-catching cover art that did justice to or often outshined the contents within. By some accounts, they were responsible for nearly a quarter of all signed covers in large format from 1900 to around 1919, and continued producing cover art into the mid-1940s.
The artists were both born and raised in Leeds, Yorkshire England, William in 1872 and Frederick in 1878, to boot maker James Starmer and Ann Elizabeth Starmer. There was one older brother, Edwin J. Starmer, born around 1868. In the 1891 England census, the family was shown living at the same address in Leeds that they were in a decade prior, and 19-year-old William was listed as a litho-artist or lithographer. The brothers and their father eventually relocated from England to New York City, William in 1898 and Frederick in 1899. James returned to England for a time, followed by William in 1900, who went back to marry Julitta (Dawson) Starmer. He returned to New York shortly thereafter to continue his work. The rest of the Starmer family and Julitta followed in June 1904. The brothers were set up fairly soon as draftsmen and artists. For many years, it was hard to discern that there were two separate Starmers at work, since the covers had similar attributes and they all had the same Starmer signature.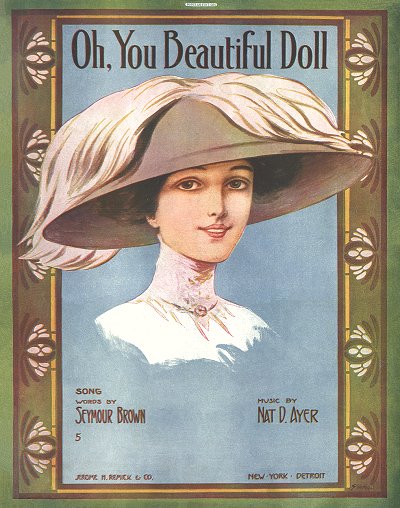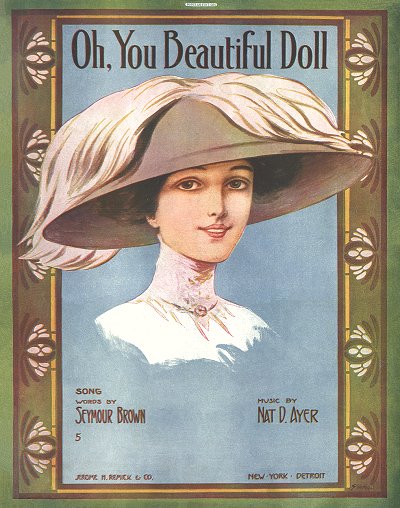 According to collector Marion Short, it was piano roll and sheet music collector Mike Montgomery who first discovered the identity of at least one of the Starmer brothers through an invoice obtained from the daughter-in-law of publisher Jerome H. Remick, a bill from William Austin Starmer. Curiously, it listed him as an "Artist and Medical Draughtsman" from Long Island. The brothers somehow escaped the 1900 census, but a check of the 1910 census showed that William was the older brother of Fredrick, and that they were immigrants from England. Even though William and Julitta had evidently had a son, William J. Starmer, in 1907, he was also curiously not listed in the record. Both brothers listed artist as their occupation in 1910, with William as "commercial" and Frederick as "illustrating." William and his wife shared their Manhattan apartment with Frederick as well. Both also appeared at the same address in several Manhattan directories of the 1910s into the 1920s, usually with Frederick as draftsman and William as an artist.
The 1920 census showed all of the Starmers still living in the same apartment, with both brothers listed as commercial draftsmen. William's wife Julitta passed on in February 1922. Passenger manifests of the 1910s and 1920s indicate many trips back to England as well, so they did stay connected with their home country. William was remarried to highly-regarded English teacher Edith Mary White in the summer of 1924 in Bradford, England, her native city. The following year she retired from a 35 year career of teaching, and was widely honored for her service, although in the New York state census for 1925 she still listed teacher as a profession. At the time of the 1930 census William's accountant son, 23 year-old William, Jr., was still living with the couple in Queens. William Sr. listed himself as a commercial artist with his own studio, likely the same situation as in previous years. The retired Mrs. Starmer also was noted in the newspapers frequently as leading the choirs at the Remsen Street Reformed Baptist Church in Queens in addition to her other church activities.
William Starmer made several trips back to England, likely to see family or keep his visa current, from as early as 1907 to the late 1930s before travel restrictions were in place due to the oncoming war. Both brothers sailed there and back in 1905, 1907, 1909, 1913 and 1924. On January 31, 1924, he was naturalized as a U.S. citizen. Frederick appears to have made one final round trip voyage in September 1925 before returning to England for good around 1929. Information on him in the 1930s is difficult to come by at this point, but it is assumed he continued a career in commercial art either in Bournemouth near Dorset. William took subsequent round trip voyages in 1927, 1929, 1936, 1937 and 1938. The 1940 enumeration taken in Queens showed him still listed as a commercial artist.
In the November 12, 1941, Long Island Daily Press, an article about William Starmer, now living in Astoria, New York, stated that Frederick had immigrated back to Bournemouth, England around 1929. Whether he continued his career as a full-time artist is uncertain, but as World War II was started, Frederick had a found another important position in his community:
William A. Starmer... a commercial artist, spent Armistice Day in the Astoria Station House, coloring maps of the precinct zones for civilian defense.
He opined that his brother, Fred W. Starmer, 63, also a commercial artist, was equally busy in civilian defense work 3,000 miles away in Bournemouth, England, where Fred is a post warden and has experienced more than 200 air raids since the outbreak of the war.
Laying aside his paints and brushes and other tools for a moment, William related that he and his brother came to this country from England in 1898 and went into business as commercial artists. Fred returned to England 12 years ago.
As soon as the war began, the older brother said Fred began working on defense maps for the sections of Southampton and Weymouth, similar to the job which William is doing.
The older brother, who was one of the first to report to the Astoria police for post warden duty, said he received a letter from Fred several years ago but it was badly cut up [redacted] by the censor and all he could make out was: "I have plenty to tell you." The censor, however, permitted a snapshot to pass
It showed Fred and eight other post wardens wearing their tin hats and gas masks, sitting in a sandbag shelter.
William died in New York in September of 1955 at age 83, and Frederick followed in Bournemouth, England, in March of 1962 at age 84.
The sheer volume of work with the Starmer signature on it makes it clear that both of them worked in the sheet music field as well as their other pursuits. Assuming each brother signed their own covers, albeit with only the last name, and that there are some distinctions between the drawings they created in virtually every conceivable category and theme, it may be possible at some point to catalog to a certainty of 70% or higher which brother drew particular covers, and if there were any collaborative efforts. But given their closeness in both style and life-long pursuits, it would stand to reason that there was some crossover in their drawing styles, and perhaps many of the brilliant covers they turned out were collaborations.
As you look through their collection, represented here in only a small quantity, note their fluid use of color, as well as the ability to draw realistic people simply but elegantly without delving into caricature unless it was called for. There is a mix of still lifes with simply patterned covers, and their command of lettering in interestingly derived fonts is also evident. Style on many of the covers is paramount, whether it be for fashion or for fadeaways. Rarely did anything delve into negative stereotype, perhaps a part of their British upbringing. Much in the vein of Currier and Ives, the brothers often captured subjects in a candid photographic sense that made the drawings look very natural. Through Remick's sheer volume of distribution, their work is in many ways the face of the ragtime era at its best.